Listen to the tsuku-tsuku boshi song of the summer cicadas while looking at my post today :). This special sound is the indication of the end of the summer season. I guess this is meant to depict a summer cicada:
and here a real photo of a 'kumazemi', a bear cicada: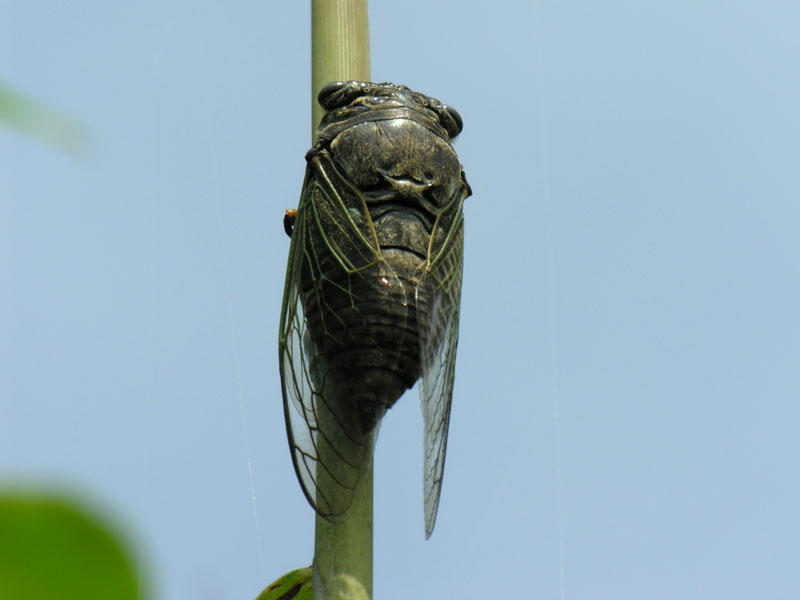 http://kimoto.cc/ykk/semi.html
Miharashidai is a moated yayoi settlement with ongoing excavations financed by Nagoya City. You can see part of the pits and a reconstructed house in a roofed hall:
In 1947 they found a doutaku-shaped clay figurine (a doutaku is a shinto bell, but you find this form already in yayoi as clay or as bronze bells). This was the trigger for a first excavation in 1964 and there have constantly been excavations till the present.
A beautiful takatsuki (pedestaled vessel), found during last year's excavation:
a pointed-based cooking vessel:
In case you are getting bored from too much vessels, here some loom weights for a change:
And some real archaeologists:
After the project leader noticed a sincere interest, he let me walk into the excavation and take photos. I had to 'pay' for it in letting him having photos of a gaijin in his trenches. But it was well worth it :). They found a second moat surrounding the northern part of the village and here is part of a midden area with pot sherds looking out between the shells:
They also found WW II relics, including German bombs and stuff. Here is part of a cooking installation from the officer's buildings: